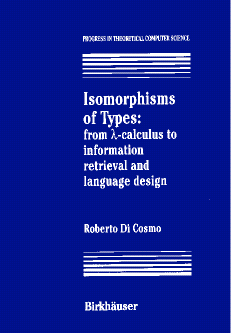 Isomorphisms of Types:
from Lambda Calculus to Information Retrieval and Language Design.
Roberto Di Cosmo, Birkhauser 1995, ISBN-0-8176-3763-X Get it from Amazon.
---
Brief Overview
This book is devoted to the study of the notion of type-isomorphisms in functional languages, both from a theoretical and a practical point of view. Based on my PhD dissertation, it has been extensively revised, updated and provided with a completely new introduction to the topic, that makes it accessible to a wide spectrum of readers. It tries hard to provide a complete reference and discussion of all research done in this area, from the definition of confluent rewriting systems for typed lambda calculi equipped with various extensionality rules, to the characterization of isomorphisms of types in different typed calculi, to the applications to extensions of ML-style type-inference algorithms and the design of library search tools based on types (you can test a sample implementation right now: english or french).
Contents and hypes
For Orders and Information Contact:
Or you can also look at this Springer-Verlag Form
Useful pointers
Type Isomorphisms WWW Home Page
---
Roberto Di Cosmo
LIENS
Ecole Normale Supérieure
45, rue d'Ulm
75005 PARIS
France